Tourist Attractions in Karnataka
Building of Karnataka tourism
Welcome to Karnataka. A land blessed with many fascinating worlds. Discover ageless monuments, world heritage sites, lush green forests, amazing wildlife, spectacular waterfalls, romantic hill stations, timeless temples, pristine beaches, exhilarating adventure sports and vibrant art & culture. And, as you traverse through the length and breadth of Karnataka, be spellbound by every facet of this amazing land.
Karnataka
is a land of natural beauty, greatest ethnicity and wonders of modern culture. It is one of the most popular tourist destinations in south India. Karnataka is the tourist paradise, both human and nature efforts here to make Karnataka as a tourist spot.
Karnataka state is blessed with a rich cultural heritage thus
Karnataka tourism
has a lot to offer you in terms of attractions. The state's ancient palaces, historical monuments, forts, temples, mosques, and churches are instances of the great versatility of different culture and traditions.
Karnataka possesses a diverse flora and fauna, which will attract all nature lovers. Animal and Bird Sanctuaries and the National parks can provide an interesting sight of wild animals for the tourists. The state has long seashore and has beautiful beaches and ports. Karnataka is home to best waterfalls, forests, gardens and wildlife in India.
The captivating cities of Karnataka have a lot to present in terms of lures. The most visited cities in Karnataka are Bangalore, Mysore, Badami, Hampi and Kodagu.
History of Karnataka
Karunadu of the ancient times and Karnataka of today has a rich culture and history that goes back as far as the pre-historic times. In fact the history of Karnataka is traceable to the stone ages and a stone axe unearthed at an excavation site near Raichur confirms this fact.
History records indicate that the people of Karnataka were competent with iron instruments and iron implements that date back to the 1200 B.C. have been discovered near Dhaward and Hallur in Karnataka, South India.
Maurya rulers played a very important role in the history of Karnataka followed by the cultural influence of Chalukyan kings. Hoysalas, Bahamani and the Adil Shahi kings, have played a very important role in the history of Karnataka, South India. The Sattavahanas, Nandas, Pallavas and Ganga rulers have made their contribution to the culture and history of Karnataka.
The Badami rulers were the ones who integrated entire Karnataka under one rule as a whole. Badami Chalukyas constructed architectural splendors in Aihole, Pattadakal and Badami, the ruins of which still stand proud as reminders of a rich cultural heritage and history.
The Hoysala temples in Belur, Halebid and Somnathpur give you a glimpse into the rich cultural history of Karnataka, South India.
Krishnadevaraya, the greatest warrior ruler of Karnataka turned the course of Karnataka's history. An excellent administrator, scholar and art connoisseur, Krishnadevaraya consolidated Karnataka under the Vijayanagar Empire after Mohammad Tughlaq's army nearly destroyed the Hoysala capital at Halebid.
Vijayanagar flourished in prosperity for a long time till the Wodeyars of Mysore came into the picture. The Wodeyar rulers lost their capital to one of their own army generals, Haider Ali. Haider Ali and his son Tipu Sultan faced British attacks with political assistance from the colonial French armies.
In 1799 the British succeeded in annexing Karnataka and placed the Wodeyar rulers back on throne, who managed Karnataka till India gained independence in 1947.
Locations and Climate in Karnataka
Spread over an area of 1,92,000 square kilometers, pleasing Karnataka is located on a tableland that lies where the Eastern Ghat hills meet the Western Ghat hills. The location of Karnataka is such that it covers a length of 760 kilometers from the north to the South and sprawls over a width of 420 kilometers from the east to the west.
Flanked by Maharashtra and Goa in the North, Kerala in the West, Andhra Pradesh in the East and Tamil Nadu in the South, Karnataka lies ensconced in between 11.5 degree North and 18.5-degree North latitudes and 74 degree East and 78.5-degree East longitudes.
The location of Karnataka on the western coast of Peninsular India makes it a beachcomber's paradise.
See everything from plateaus, hills and mountains to coastal plains on your Karnataka tours.
Bababudangiri and Mullayyana are the tallest mountain peaks in Karnataka, South India.
As far as the climate of Karnataka is concerned you'll be enveloped with a pleasing cool climate that soothes your senses with a constant gentle breeze. Though entire Karnataka exhibits three distinct types of climate: 1) Tropical Monsoon Climate 2) Winter and 3) Summer.
The climate tends to get a little humid during the months of April and May, though the climate is generally pleasant from October to March. During June to September, Karnataka plays host to rainfall that definitely makes the climate slightly cold.
Here is the list of Karnataka's most sought tourist places of Karnataka:

Bangalore
Bangalore (now renamed Bengaluru) is the capital city of Karnataka state. Bangalore is also called the garden city of India. Many reputed scientific institutions are available here. The city is also known as the Silicon Valley of India as the growth of Informatin and Technology is very rapid. The surroundings of the city is beautiful and it has got a very pleasant climate.

Belgaum
Belgaum was the capital of Rattas once upon a time. Situated at north west side, this district shares the border of Karnataka with Mumbai (Maharashtra) and Goa. The place is well known for Muslim, Hindu and Jain culture having temples (Anantha Shayana, Maruti, Kapileshwara), shrines (Durga and Ganapati), mosques (Safa and Jama masjid) and Jain Basadis (Kamala Basadi, considered as a monument). Belgaum is well known for the Fort which is situated at the heart of the city.

Bellary
This place is considered as the Kishkindha, the place which is mentioned in the great epic Ramayana, which was the kingdom of Vaanara sena. Bellary, situated at a distance of 300Kms from Bangalore, shares the border at East with Andhra Pradesh. The place is located between two mountains. On one of the hills there is a fort.

Bidar
Once upon a time, Bidar was the capital of Bahmani Kingdom. This district is the north most part of Karnataka state and was a part of Chalukyan Empire. The city is well known for Fort of Bidar which has got five gates (paanch Darwazas) and other monuments .

Bijapur
Bijapur is at the North side of Karnataka and shares the border with Maharashtra. Bijapur was the capital during Muslim Dynasty and known as City of Victory. The city has historic architecture (Islamic) and was also the capital of Adil Shahi Dynasty.

Chamarajnagar
Chamrajnagar was one of the Taluk headquarters under Mysore district before it became an independent district head quarters. Now, the Chamrajnagar is well known for its hill stations and the temples situated in these hill area. Chamrajnagar is 60Kms from Mysore towards South.

Chikmagalur
Chikmagalur is located 240Kms from Bangalore towards North-West direction (from Bangalore). The place is located in a fertile valley south of the Baba-Budan range. The town is surrounded by lush coffee growing hills. Malnad, the name what Kannada people use for the range of hills, rich in green valleys, come under many places of this district.

Chitradurga
Chitradurga shares the border at East with Andhra Pradesh and stretches to the center part of karnataka almost. It was once the capital of Paleyagars with great history. There is a hill nearer to the city surrounded by seven fortifications and seven temples dedicated to Gopalaswamy, Sampige Siddeswara and goddess Ucchangamma. The place takes us to the ages of Ramayana. Jatayu, the bird, fell at this place after getting wounded during fighting with Ravana to save Sita Devi. The place also has importance considering Maha Bharatha. Bhima, one of the Pandavas, killed the Rakshas Hidimbasura here. There is Hidimbeshwara temple which is one of the oldest. Onake Obavva, the lady who killed many muslim soldiers to safe gaurd the fort, has remained in the memories of local people with her heroism and patriotism.

Coorg
Known as Scotland of India, this district shares the border with Kerala state. Rich in green fields, famous for coffee plantation, Orange orchards and couple of well known Water falls. Coorg district is also called Madikeri and Kodagu. The city is situated in West direction from Bangalore, the capital city of Karnataka state, at a distance of 260Kms. This is the next district head quarters in this lane after Mysore.

Dakshina Kannada
Dakshina kannada shares the coastal area at West (Arabian sea) with few other districts of Karnataka. Palm beaches, dense green forests, azure waters and vallies are the highlights of this place. Famous, well known Yakshagana is originated from this area. Mangalore is the main city and is connected to Bengaluru via Hassan through NH48.

Dharwad
Dharwad is located at a distance of 425Kms from the capital city Bangalore in Karnataka. The city is well known for education and business. University of Karnataka and University of Ugricultural sciences are located here. dattatreya temple, Durga Devi temple, Panduranga temple, Basel Mission church and All Saints Church are some of the important tourist places.

Gulbarga
Gulbarga, which is at a distance of 625Kms from Bangalore, shares the border with Andhra Pradesh towards East and is situated below Bidar. This place was well known during Bhamani Dynasty founded by Hasan Gangu. Before breaking upto become Deccan Peninsula, this was an oldest place of Gondwana Plateau.

Hassan
Hassan is well known for ISRO Master Control Facility (MCF) situated just 6Kms from the town. This is a ground control station for Insat series and other satellites. Hassan district is famous for temples built during Hoysala period. This district is located at the border of Western ghats (also called Malnad area locally). This district is in between Bangalore and Mangalore on National Highway 48 and well connected even by rail. The distance between Bangalore and Hassan is nearly 200Kms. The history of this district is with mainly Hoysalas and Gangas. It has got destinations for Shaivas(shivalaya temples at various places in the district like Halebid), Vaishnavas(temples at places like Belagali, Javagal, Konanur, Belur etc...) and jains (monuments at various places including Jinanathapura beside Shravanabelagola). The monuments are of Hoysala style. There are two Hoysala temples dedicated to Lord Virupakshehswara and Lord Channakeshava. Rivers Hemavathi, Yagachi and Cauvery river tributes flow in the district and the southern part is well irrigated.

Mandya
Mandya district is in between Bangalore and Mysore and on the way from Bangalore towards west. Rich in ugricultural lands as many number of major rivers in southern Karnataka pass through the district.

Mysore
Mysore is called the city of palaces because of the existance of many number of palaces. Mysore located 770m above sea level is 140Kms (South-West) from Bangalore. Mysore is an old city one must visit to know about Indian history, art and culture.

Raichur
Like many other districts in the East, Raichur (situated at a distance of 400Kms approximately from Bangalore) also shares its border with Andhra Pradesh. It has got a hill fort representing Hindu military architecture. Raichur is one of the destination for Kannadigas to visit Mantralaya situated very nearer in the Kurnool district of Andhra Pradesh.

Shimoga
Shimoga district lies in western ghats, locally called Malnad. The distance between Bangalore and Shimoga is 280Kms and situated at North-West direction from Bangalore. This district has beautiful forests with waterfalls. Shimoga town is situated at the banks of river Tunga.

Udupi
Udupi is also one of the west coast district of Karnataka state. The famous Chandramouleshwara temple is situated here. The name Udupi came from the name Udupa meaning Moon. The district headquarters Udupi is known as pilgrim centre. The place is also known for its delicious cuisine and the restaurants all over the country. The district headquarters is 420Kms from Bangalore towards West. Nearest airport is Mangalore.
Some of the famous hill stations of Karnataka are:
Nandi Hills
Nandi Hills
Located 60 kms north of Bangalore is the summer resort of Karnataka called Nandi Hills. It is also known as Nandidurga, it was once one of the summer retreats of Tipu Sultan. Nandi Hills was also a favorite of British, who built bungalows and laid out gardens here. Today, its a popular weekend destination among Bangaloreans. The 1478-m high Nandi Hills is the originating point of many rivers.

Kermana Gundi
Located in the Tarikere Taluk of Chikmaglur district is a picture perfect hamlet - Kemmanugundi, also called K.R.Hills named after the Wodeyar king Krishnaraja Wodeyar IV, who made it his favourite summer destination. Situated on the Baba- Budan range at a height of 1,434 m, Kemmanugundi is the perfect get away destination from the hustle and bustle of the cities.

Madikeri
An enchanting town situated at an elevation of over 5,000 ft (1,525 m) above sea level is Madikeri hill station. Breathtaking views ignite your senses and cool wind blowing lets you unwind yourself. Beautiful people smile at you and the fragrance of coffee fills the atmosphere.

Biligiri Hills
Situated 120 kms from Mysore and 247 kms from Bangalore, the Biligirirangana range of hills is beautifully situated between the Cauvery and the Tungabhadra rivers. At a height of 5,091 ft above sea level, this hill station stretches from north to south for about 16 kms. Bordered by deciduous trees, the forests are swarming with wildlife.

Kudremukh
Situated 95 kms south-west of Chikmaglur town is the Kudremukh (Horse Face) range, named after the unique shape of the Kudremukh Peak. It overlooks the Arabian Sea and the broad hills are bound to one another with deep valleys and steep precipices. Discovered by tourists, Kudremukh is a secluded hill station, which retains its serenity and natural beauty. The hill is covered by Sylvan green forests, beautified by mighty rivers, grassy slopes, exuberant cascades and rare orchids, providing a wonderful setting for trekking. Situated 1,894.3 meters above sea level, Kudremukh is rich in iron ore deposits.

Chikmagalur
Chikmagalur is situated in a lush valley south of the Babu-Budan range. It derives its name from the headquarters town of Chikmagalur which literally means younger daughter's town. It is believed that it was given as a dowry to the younger daughter of Rukmangada, the legendary chief of Sakrepatna. Hiremagalur, another part of the town, was given to the elder daughter. Certain ancient inscriptions reveal that these two places were originally known as Kiriya-magalu and Piriya-magalu. This hill station has several interesting attractions like, the Kondadarama Temple, the Jamia Mosque and the new St. Joseph's Cathedral.

Gangamoola
Located in the Samse Taluk of Chikmagalur district, the Gangamoola hill is surrounded by thick forests. It is the origin of three mighty rivers, the Tunga, Bhadra and Nethravathi. The highlights of the region are a Goddess Bhagavathi shrine and a Varaha image, 1.8 metres high, within a cave, which become inaccessible during the monsoons.
Some of the famous Temple of Karnataka are :
Bull Temple at Basavanagudi
A temple built in the Dravidian style by Kempe Gowda, founder of Bangalore, it has a monolithic bull, made of gray granite which is 4.5 mts high and 6.5 mts long. The Nandi bull is revered as the 'vahana' (vehicle) of Lord Shiva. The temple was supposedly built to appease a bull that devoured all the groundnuts/peanuts grown in the area. The bull stopped inflicting damage and the thankful farmers held a Groundnut Fair (Kadalekai Parase) near the temple premises which continues even to this day! The monolithic Nandi bull is . One can also visit one of Kempe Gowda's four towers situated near the temple.
ISKCON Temple on West of Chord Road
Sri Radha Krishna temple and cultural complex, which is an architectural masterpiece is set on a seven-acre hillock called the 'Hare Krishna Hill'. This is ISKCON's global project to commemorate the birth centennial of its founder Sri Prabhupada. Built in the Neo-Classical style, it combines traditional elements of temple architecture with high-tech utilities. Ornamental arches and illuminated water cascades lead to an elaborately decorated Rajagopuram. There is a unique open air amphitheatre for concerts and festivals.The four temple 'gopurams' are connected by a stunning glazed glass canopy which forms the main 'Hari Naam Kirtan' - a hall of 10,000 square feet. The hall has wonderful ceiling paintings. There are also Vedic museums and exhibit areas, a lecture hall with multiple language translation system and landscaped gardens. The main attraction is ISKCON Vedic Theatre, where a multimedia Vedic film is shown.
Banashankari Temple on Kanakapura Road
The uniqueness of Sri Banashankari Amma Temple is that the deity, Banashankari Amma is worshipped in Rahukala, an inauspicious time according to Hindu belief. The area, Banashankari is named after the goddess. Situated on the busy Kanakapura Road, it is one of the most popular temples of Bangalore. Devotees believe that by worshipping the goddess Banashankari Amma in Rahukala one's hardships and poverty will be removed.

Considering the large number of devotees who come to the temple, the Government of Karnataka has taken it into the purview of the Endowment Department. Though the temple is opened to devotees everyday, Tuesdays, Fridays and Sundays are special days when thousands of devotees throng to the temple from dawn to dusk to offer special Pujas. The goddess is worshipped with deeparaadhane by lighting multiple oil lamps in half cut lemon peels with the pulp removed.

The temple was built in 1915 by a devotee, Somanna Shetty who installed a deity of Banashankari Amma brought all the way from Badami in Bijapur district.
There are three big cultural ceremonies that are held annually at the temple. The first one on September 13 every year celebrates the birthday of Banashankari Amma. The temple also conducts the Dasara Festival in October and the temple anniversary in Pushya Maasa, which falls either in the end of December or in the first week of January.
Kadu Mallikarjunaswamy Temple at Malleshwaram
Built in one of the oldest areas in Bangalore - Malleswaram, the temple is on a hillock. As the legend goes, the temple belonged to Chatrapati Shivaji's stepbrother Venkoji, who came upon a 'shivalingam' in 1669 and consecrated the temple around it.
Dodda Ganesha Temple at Basavanagudi
The monolithic Ganesha is about 18 ft in height and 16 ft in width. The God is also known as Shakthi Ganapathi or Satya Ganapathi. People from all walks of life come here to seek blessings. What makes this idol more attractive to the devotees is, the different types of decorations that are done during the week. The most famous is the butter coating of the idol. More than 100 kgs of butter is used for this purpose.
Shiva Statue on Airport Road
The Shiva Temple, located on Airport Road, is seated Shiva in the Himalayas, built in the year 1995. Shiva's idol is a great crowd puller due to its grandeur, aesthetic values, scenic beauty and majestic look. During festivals it draws nearly four to five lakhs of devotees in a day. Puja seva (service) is free of cost for everyoneIt boasts of Awesome 65 feet high depiction of Lord Shiva seated in Lotus position. It has the backdrop of Mount Kailash the Lord's heavenly abode and the river Ganga flowing from his matted locks as depicted in the mytholog
Gavi Gangadareshwara Temple
This temple, also located near Basavanagudi, is well known for its remarkable architecture. Kempegowda built two of the oldest temples in Bangalore: the Bull temple and the Gavi Gangadareshwara Temple. The temple, dedicated to Lord Shiva and Goddess Parvathi is inside a natural cave in Gavipuram. Legend has it that Kempegowda built this temple in gratitude after being released from his five-year imprisonment by Rama Raya. Devotees gather here on Makara Sankaranti day when it is believed that at a particular moment in the evening the sun's rays fall directly on the linga inside the cave, passing between Nandi's horns. The highlights here are the four giant stone representations of Shiva's emblems - the trisul (Lord Shiva's trident), the damaru, the suryapana and the chandrapana
Dharmaraya Temple
Located in Nagarathpet, this temple has two exceptionally fine images of Lord Krishna and Dharmaraja - hero of the epic 'Mahabharata'. The temple is also well known for the annual Karaga festival.
The Karaga festival - a form of Shakti worship, is celebrated during March/April of every year. The Karaga procession starts from the Dharmaraya temple at Nagarthpet at about 2 am.
Prasanna Veeranjaneya Temple in Mahalaxmi Layout
The uniqueness of the Prasanna Veeranjaneya temple, apart from the 22-foot-high deity of Veeranjaneya, is its peaceful atmosphere. The cool breeze and surrounding greenery, coupled with an aura of mysticism, bring solace to devotees visiting the temple.
Sugreeva Venkateshwara Temple
Located in Balepet area, this temple houses idols of Sugreeva and Venkateshwara. The inner shrine of the temple has an idol of Lord Venkateshwara placed on a pedestal. The Sugreeva idol, which is about six feet in height and appears like Hanuman. The long teeth on either side of the mouth are the only thing which differentiates it from Hanuman.
Kanyakaparameshwari Temple in KumaraPark
Apart from the Goddess which is a popular among the devotees in and around Malleshwaram, the Temple has a fascinating feature - Marble Mandira, murals of holy places and Darpana Mandira (Mirror Mandir) depicting Rishis, Bhagawada Gita and Vasavi history
Venkataramanswamy Temple
Is a small temple with some interesting carvings, built by Chikkadevaraj Wodeyar. There are figures of Brahma, Vishnu, and Shiva on the walls and an idol of Venkatarama in the sanctorum. After Lord Cornwall's assault, in 1791, the original pillar had to be replaced as it was hit by a cannon ball. Built in typical Dravidian style, this temple has survived through the reign of Chikkadevaraj Wodeyar, Sultan Haider Ali and Tipu Sultan.
Some of the famous Wildlife sanctuaries in Karnataka:-
Wildlife in Karnataka
Adichunchanagiri Peacock Sanctuary: This is located in Mandya district and is spread over 0.88 km. This was created mainly for the conservation of peacocks.
Arabithittu Wildlife Sanctuary: This is located in Mysore district and is spread over 13.5 km. This park consists of eucalyptus and sandalwood platations. Leopard, fox and spotted deer are some of the animal species found here
Biligiri Rangaswamy Temple Wildlife Sanctuary: This is located in the Chamarajanagar district and is spread over 539.58 km. Some of the species of flora found here are Anogeissus latifolia, Grewia tilaefolia and Syzygium cumini. Species of mammals include elephants, tigers, leopards, sloth bear, gaur, barking deer and sambar. Among the 215 species of birds found here include Nilgiri wood pigeon, Malabar whistling thrush, yellow-throated bulbul, peregrine falcon, rufousbellied hawk eagle. An endangered amphibian, Icthyophis ghytinosus has been reported in this sanctuary.
Bhadra Wildlife Sanctuary: This is located between the Chikkamagaluru and Shimoga districts and is spread over 492.46 km. Common species of flora include Lagerstromia lanceolata, Adina cordifolia and Careya arborea. Mammals include tiger, leopard, elephant, gaur, slender loris and pangolin. Among the bird species found here are rubythroated bulbul, shama, Malabar whistling thrush and paradise flycatcher.
Brahmagiri Wildlife Sanctuary: This is located in Kodagu district and is spread over an area of 181.80 km. The evergreen forests in this sanctuary include species like Cinnamomum zeylancium, Cedrela toona and Alstonia scholaris. Bamboos are dominant here and include species like Bambusa bambos and Dendrocalamus strictus. Mammals include elephant, gaur, tiger, jungle cat, bonnet macaque and Nilgiri marten.
Cauvery Wildlife Sanctuary: It is spread across the districts of Bangalore, Mysore and Mandya and is spread over 102.59 km. Dry decidious trees found in this park include species like Terminalia arjuna and Syzgium cumini. Animal species found in this park include leopard, elephant, sambar and common otter. This is also one of the last refuge of the highly endangered grizzled giant squirrel in Karnataka. Bird species include green billed malkoha, whitebrowed bulbul and pigmy woodpecker. This sanctaury is also famous for mahseer fish
Dandeli Wildlife Sanctuary: This is located in Uttara Kannada district and is spread over 475.02 km. Common tree species found here are Dalbergia latifolia, Terminalia paniculata, T. tomentosa and Vitex altissima. Mammal species include elephant, gaur, wild pig, slender loris, Malabar giant squirrel and barking deer.
Daroji Sloth Bear Sanctuary: This is located in Bellary district and is spread over 55.87 km. This sanctuary was mainly created for the preservation of sloth bears.
Ghataprabha Wildlife Sanctuary: This is located in Belgaum district and is spread over 20.78 km. This sacntuary is known for migratory birds like demoiselle crane and European white stork.
Melukote Wildlife Sanctuary: This is located in Mandya district and is spread over 45.82 km. An endangered species of flora, Cycas circinalis is found here. Mammal species include wolf, leopard, blackbuck and pangolin.
Mookambika Wildlife Sanctuary: This is located in Udupi district and is spread over 247 km. Some of the tree species found here are Dipterocarpus indicus, Calophyllum tomentosum and Hopea parviflora. An endangered species of climber Coscinium fenestratum has been recorded here. Slender loris, lion-tailed macaque, sambar and chital are some of the animals found here. The endangered cane turtle is also found here.
Nugu Wildlife Sanctuary: This is located in Mysore district and is spread over 30.32 km. Common species of flora include Emblica officinalis, Santalum album and Dendrocalamus strictus. Mammals include elephant, gaur, leopard, spotted deer and common palm civet.
Pushpagiri Wildlife Sanctuary: This is located in Kodagu district and is spread over 102.59 km. Some species of flora found here are Hopea parviflora, Schefflera capitata, Xanthalis tomentosa and Ochlandra rheedii. Mammals include elephant, tiger, slender loris, Nilgiri marten and bonnet macaque. Bird species include Great pied hornbill, Malabar trogon and Nilgiri blackbird.
Ranebennur Blackbuck Sanctuary: This is located in Dharwad district and is spread over 119.00 km. Eucalyptus are the dominant species of trees found here. Cassia fistula, Prosopsis julifora and Zizyhus mauritania are other tree species found here. This sanctuary was created mainly for the conservation of blackbucks. This sanctuary is also a habitat for the endangered Great Indian Bustard.
Sharavathi Valley Wildlife Sanctuary: This is located in Shimoga district and is spread over 431.23 km. Dipterocarpus indicus, Caryota urens and Dillenia pentagyna are some of the species of flora found here. Tiger, leopard, mouse deer, bonnet macaque and common langur are some of the animal species found here. Snakes are commonly found here. Paradise flycatcher, racket-tailed drongo and bluethroated barbet are some of the bird species found here.
Shettihalli Wildlife Sanctuary: This is located in Shimoga district and is spread over 395.60 km. Cassia fistula, Kydia calycina and Wrightia tinctoria are some of the species of flora found here. Tiger, leopard, bonnet macaque and Malabar giant squirrel are some of the animal species found here.
Someshwara Wildlife Sanctuary: This is located in Udupi district and is spread over 88.40 km. MachilusmMacrantha, Lophopetalum wightanium and Artocarpus hirsuta are some of the species of flora found here. Tiger, leopard, lion-tailed macaque and spotted deer are some of the animal species found here.18.
Talakaveri Wildlife Sanctuary: This is located in coorg / Kodagu district and is spread over 105.00 km. Albizzia lebbek, Artocarpus lakoocha, Dysoxylum malabaricum and Mesua ferrea are some of the species of flora found here. Clawless otter, elephant, tiger, striped necked mongoose and mouse deer are some of the animal species found here. Fairy bluebird, Malabar trogon and broadbiller roller are some of the avian species found.
Some of the famous Waterfall of Karnataka are :
Karnataka is the best home to waterfalls, many of the best waterfalls located in Karnataka. Highest waterfall in India Jog fall (falling the height of 830 feet) is located in Shimoga Districts of Karnataka state. There are hundreds of waterfalls in Karnataka, most of the waterfalls deeper in the rain forests ( tourists can's reach alone). Some of the known waterfalls are Abbye falls, Shivasamudram Falls, Jog Falls, Irupu Falls, Hogenakal Falls, Hebbe Falls, DudhSagar Falls (in border of Goa and Karnataka). Coorg is the place which located more waterfalls in Karnataka, Some of the waterfalls know to the tourists, but most of the waterfalls hiden in the rain forests of Coorg. Chickmagalur also have some of the waterfalls in the Rain Forests. Shivanasamudra waterfalls is the second best known waterfalls after Jog falls
Jog-Falls/Honnemaradu Falls
Jog-Falls/Honnemaradu Falls is in the Shimoga district which is about 25 kms from Sagara towards Jog Falls,from Bangalore 400 kms. Jog Falls, created by the Sharavathi River falling from a height of 253 m (830 ft) is the highest plunge waterfall in India.Located in the Shimoga district of the southern state of Karnataka, Jog Falls is the highest untiered waterfalls in India. Unlike other waterfalls, the Jog Falls directly plunges and does not stream onto rocks. The falls is also popularly known as Gerusoppe Falls, Gersoppa Falls and Jogada Gundi. Jog Falls is very well connected both by rail as well as road. There are quite a few resorts and bungalows here which provide accommodation. The falls with its natural beauty is also a popular site among film makers and is the location for many film shootings.

Chunchunkatte Falls
It is located 20 kms off the Mysore - Hassan Highway,K.R Nagar Taluk,Mysore District. Chunchunkatte is a small village. It is close to a more famous settlement Saaligraama.Water cascades from a height of about 20 meters.It is in the Western Ghats. The place is known for its waterfall and sri Rama temple.This place is known as DhandakaAranya Kshetra . In this DhandakaAranya Forest .Rama came here and stayed here for three days.Cauvery was Gupthavahini at that time. Sita Matha wanted to take bath, she asks her brother-in-law Lakshmana that no water is in trace here , Then our Lakshmana imimmediately puts a Bhana in a big stone bund and lo behold the water flows like a fountain and then like a big sarovara. Then when Matha went to take bath there was proper facilities for ladies to take bath ,then when Matha was little hesitant, then a big stone bund cracks into two pieces and comes near the place she stands and this is place is known as Sita Madilu , then our Sita Pirati took bath. Then she took oil bath. , From that day it is considered as auspicious to take oil bath here. Then the place where Lakshmana put the Bhana came to be known as Dhanushkoti.The uniqueness of this place is that the sound of the waterfalls can be heard all over except inside the sanctum sanctorum of the centuries old temple..

Abbey-falls
It is located 10 km from the town of Madikeri and 270 km from Bangalore.Abbey Falls (Abbi Falls) is in Kodagu(Coorg), in the Western Ghats in Karnataka, India.Among the many falls Abbey Falls in Karnataka is one of the spectacular waterfalls of Karnataka.In the mountains of the Western Ghats, several streams combine, swelling with the monsoon rains and plunging down the mountain slope at enormous speed, hitting the huge boulders hard and forcing through the crevices and ravines. A misty cloud hangs over the falls. From here the water flows into the Kaveri River.Abbey Falls Karnataka offers a great view to one looking for the thunderous roar of a cataract.

Nisargadhama Falls
It is 25km on the way to Madikeri from Bangalore,2 kilometers from Kushalnagar. Nisargadhama is a beautiful island carved by the Cauvery. Karnataka's geographical topography is dominated by the Western Ghats that is the source of many rivers flowing though out the land. Nisargadhama is an island in Cauvery and to reach this island you have to cross a hanging bridge. Nisargadhama streams with profuse growth of foliage, teak and rosewood plantation. The island is shaded with thick bamboo groves. It is an enchanting island with tree houses and a mini zoo too. The sprawling land has deer park, orchids blooming and elephants. Nisargadhama Falls in Karnataka offers ideal sandy beds for picnics and boat rides too. There is a small restaurant too. Close to Nisargadhama Falls Karnataka are the Tibetan settlements Kushalnagar and Bylakuppe. The monastery with well developed lawns and small ponds is beautiful.

Kallatti Falls
An 8-hour drive from Bangalore, along the muddy mountainous tracks and hairpin turns, the picturesque hill station of Kemmangundi. A summer retreat for erstwhile Wodeyar ruler, Krishnaraja Wodeyar IV it has beautiful laid gardens, magnificent mountain ranges and splendid valleys, excellent visual treat for the tourists. Kemmangundi hill station has spectacular waterfalls cascading along its slopes, excellent animal life and rare species of plants. Trekkers climbing along the mountainous terrains enjoy the picturesque view. The sunset view from the Raj Bhavan can be a photographer's ideal subject. With base in Tarikere which is 35 kms from Kemmangundi, trekkers climb the hill slopes to enjoy the panoramic view of the verdant valleys below. The adventurous scale the peaks and explore the jungle of Kemmangundi hill station.
Manikyadhara Falls
Manikyadhara Falls is located near Kemmangundi of Chikmagalur district on the Baba Budan Giri Hills.Manikyadhara Falls is located near Kemmangundi of Chikmagalur district on the Baba Budan Giri Hills and is a sacred place for both Muslims and Hindus. It is one of the main attractions of Baba Budan Giri. Manikyadhara Waterfalls also known as Nellikayi Theertha is situated 1 km from Baba Budan Giri Dattatreya Peetha, Chikkamagalur, Karnataka The specialty of the fall is that it does not get drained during the summer; instead the water remains icy cold. Other than this natural significance,bathing in this fall can cure one of many ailments and both Hindu and Muslim devotees take a bath here since they consider it to be sacred. Many original herbal medicines are available at the shops here.They also guide the tourists on using the herbal medicine.

Burude Falls
Is around 20+kms from Siddapur and 55+kms from Sirsi, on Siddapur-Kumta road.From Banglore 450+km.The way to get down to the river is through a small creek which is dry in summer. And which will be full in rainy and winter seasons which makes the entry to the waterfall and the valley impossible. The first step of the waterfall has an amphitheater sort of setting where hundreds of people can sit and watch the glorious waterfall and feel the mist rushing towards them. On the other side after a serious climb down you will get to see the other end of the waterfall. And the last stretch of this waterfall can only be heard from here. If you have a heart for climbing you can climb down to the edge of the rock to see it partially. This one is a wonderful one.

Sirimane Falls
Is located at a distance of 5 km from Kigga.2kms away from the Sringeri. Distance from Bangalore : 300+kms.Sirimane Falls is one among the many waterfalls of the Western Ghats of Karnataka. Sirimane Falls , a popular pilgrim center.This waterfall is small compared to other waterfalls of Western Ghats. But there is no compromise in the beauty of the waterfall. Best time to visit Sirimane Falls is immediately after monsoon to enjoy the beauty of the waterfall. Accommodations are available at Sringeri.

Chunchi Falls
It is in Kanakapura (16+kms) taluq in Bangalore Rural district in Southern Karnataka.Distance From Bangalore 90+ kms.The waterfall is nestled among the amazing ranges of rocks on the banks of the River Arkavati. It is located on the way to Yelehalli from Sangam. One can reach to Chunchi falls from Kanakapura. The waterfall is in the backdrop of scenic settings and it offers eye catching panoramic views of the surroundings. The waterfall has quicksilver flow of gleaming ripples and is placed in an exquisite rocky valley. It is surrounded by dense and green forests. The falls is a popular picnic spots. The bird's-eye view of eposes of the rippling Chunchi Falls is a sight to behold. Even though it is a small waterfall, the beauty of its rushing cascades of water in a green setting enchants tourists.

Dondole Falls
Is around 20 kms from a place called Kakkinje which is just 3kms before charmadi from Ujire.District: Dakshina Kannada,near CharmaDi ghats, Dharnasthala in Western ghats.Dondhole Waterfalls, on the Dharmasthala-Ujire Road, is located near Netravathi Bridge,Donhole plummets from a height of 50 ft. The adjoining areas of the waterfalls are home to rare species of birds and flowers. Alekhan Waterfalls and Bandaje Arabi Falls are among the points of interest nearby. Dondole can be reached from Dharmasthala.On the way one just after leaving the kakkinje one gets a breathtaking view of the banDaje arbi and the ballaLa rayana durga. Though these places are very near to roadheads one must carry their food and tentage. If lucky you might even get a chance to see a Bison or two. Even otherwise sighting of some wonderful birds, butterflies is for sure.
Iruppu Falls
It is located 50kms from the Nagarahole National Park and about 50kms from Madikeri, South Karnataka about 300kms for Bangalore.This place is believed to possess the power to cleanse one's sins and is visited by thousands of devotees from far and near on Shivaratri day. There is temple dedicated to Sri Ram, surrounded by paddy fields, from where it is a climb up to the falls through natural forest. This place can be visited from Gonikopal on the way to Nagerhole National Park by taking a detour after Srimangala, situated in the Kutta Road.Originating from the Brahmagiri Range, the river Lakshmana Theertha plungess down from a height of 170 ft. forming the Iruppu Water falls.

Magod Falls
It is 17kms from Yellapur. You have to take deviation to the left after around 5kms on the way to Ankola from Yellapur.500+km from Banglore.One of the most glorious waterfalls in Karnataka, the river Bedti falls from a height of nearly 650m in two steps. On the way to the waterfall, you will find a beautiful lake called "Kavada Kere" of about 60 acres. Also, there are some scenic spots, like the Jenukallugudda (honey rock hillock) where one can view the magnificent sunsets. The thickly wooded countryside coupled with the roar of the gushing water and a beautiful view makes this spot an ideal choice for outings and picnics. This place has a forest guest house but it is still advisable to carry your own food and water supplies. It is also a good idea to keep a torch, pocket knife and matchbox, just in case. The Magod Falls is worth visiting at any time of the year, but when there, try going to the fall on a weekday and any time between 9.00 AM to 5.00 PM.

Barachukki/shivanasamudra Falls
Nearest railway station is in Mysore, at a distance of 60 kilometers. Shivanasamudra can be approached either via Bangalore – Mysore road or Kanakapura road. Gagana Chukki (90 metres), Bhara Chukki (69 metres). The river is formed by the natural collection of surface rain water run offs from the plains & hills surrounding Sathegala & Kollegala towns. Due to the general lack of monsoon rains in the region this river usually dries up by the time it reaches Bharachukki. Whenever it overflows, it is a distinct sight to behold, as it brings with it muddy sediments from the fields and plunges alongside into the 'white' waters of the Cauvery.Shivanasamudra is probably the largest waterfall in the region after Jog Falls.

Ballur Katte (river)
It is located nearly 15km from Chunchunkatte falls.Mysore District,K.R Nagar Taluk,Saligrama hobli. Ballur is a small village with a population of 1500 people as of 2005 sensus. Ballur Katte (dam) is a small dam on river branch of Cauvery and is named after the village Ballur. People walk on that dam to cross the river. The top of the dam is 1 feet wide and water flows over it, which means people walk on the flowing water (over flowing water rather) with ankle deep. If you are new to this place and want to cross over the dam, you will feel dizzy because of the overflowing water, and there is a greater chance of falling into 10 feet water fall. It is amazing to see goats and sheeps crossing the river along with the sheppard. Further down the stream (5 to 6 km) is Chunchunkatte Hydroelectric project. Kannada is the medium of language. This village has new roads, water facility, electricity and even cable TV!...People have started watching other languages and have started educating themselves. Majority of the occupation is farming, growing sugarcane, rice, and grains during off season. Atleast one in every family is a graduate and have moved to city.

Satoddi Falls
At a distance of about 32 km from the town of Yellapur.Yellapur taluq in North Kanara district in North West Karnataka.From Bangalore 450+ kms.!
Satoddi Falls, also known as the Mini-Niagara of Karnataka, is in the Ganeshgudi range forest of the Yellapur taluq. Several unknown streams converge near Kallaramane Ghat, plunge from a height of about 15 m to create a picturesque waterfall and then join the backwaters of Kodasalli dam built across the Kali River. The fall is situated in the middle of dense forests and a part of the road leading to the fall is an all-weather road but a portion, nearly one-third the distance, is not motorable during rains. Currently, the Satoddi Falls is on the verge of submersion. The Kodasalli dam built down the stream of the river is the cause for this danger and in consequence, the death of this beautiful waterfall.
Banni Falls
It is near Haliyal,Karnataka.The waterfall is about 50 ft height, has a good width with nice surroundings.Locals informed that it is known as 'Banni Falls'. Curiously, 'Banni' in Kannada means 'Come'!. There was mention in a topography sheet of British times about this beautiful spot.

Benne Hole Falls
On the way to Kumta from Sirsi after 21kms you get a small places called "Kasage". From here waterfall is around 6kms.From Banglore 440kms.This glorious water falls is formed from the tributary of river 'Aghanashini'. Benne Hole falls is among one of the beautiful falls in Karnataka. In Kannada, 'benne' means butter and 'hole' means big stream. The name of the falls indicates lot about its beauty. It is a big stream which flows with all force and looks as white as butter. A tributary of the river "Aghanashini" by name 'beNNe hoLe' flowing through the dense forests of the Devimane Ghats region of the Western Ghats falling from a height of about 200 feet forms a spectacular visual treat.

Mallali Falls
A place near to Somwarpet called Bidalli, which is 25+ Kms, from Somwarpet, Mallali falls is almost 2.8 kms from Bidalli.In Coorg. It's an wonderful experience around here, Water & Greenery covered Scenic beauty and the Stunning view point. The falls is formed from KUMARADHARA River passing by. Falls has a height of about 62m. Experience the breath taking view of the falls from this view point. This falls is in the foot of the Pushpagiri peak a trekking point. An amazing Place for an adventures trip. A full Fledged Panoramic Beauty. Ideal season to visit this place is anywhere between July to December. Though less Explored location, its a beautiful falls one should not miss. A adventures place for one who needs it.
Thottikallu(T.K) Falls
Thottikallu is a place near Bangalore off the Kanakapura road.Kanakapura road will lead to a place called Byalemaradadoddi, from where a mud road leads to the falls.
Thottikallu falls more popularly known as TK falls. A de route at Kagalpura (Kaggalipura) off the Bangalore - Kanakapura road will lead to a place called Byalemaradadoddi, from where a mud road leads to the falls. There will not be much water in summer and hence better to visit in or just after monsoon. The place is about one hour from Kempegowda Bus Terminal. Now a lots or residential projects are coming up near TKfalls. This falls is slowly gaining interest in south bangalore. A lot of biking expeditions are conducted to this place. little away from bangalore one can enjoy greenery.
Hemagiri Falls
This place is located 8 Kms from KR pet enroute to Kikere town or Govindhalli.Distance from Bangalore: 200KM.It is better to take the route back, in view of bad roads on the same stretch to reach Kikere town. The river is in full flow during monsoon and it is a treat to watch. This spot seems to be a film shooting locale for some of the Kannada movies.District: MandyaBest time to visit: Between December to January.

Vibhooti Falls
At a distance of 50 km from sirsi.8km from yana.District: Uttara Kannada.One of the numerous waterfalls of the Western Ghats. This beautiful waterfall is at few kilometers distance from the place Yana. Along with the two huge rocks there is one more limestone rock structure (which is quite small in size compared to the giants) in the vicinity. When asked a localite said the waterfall got the name as Vibhooti falls because of this Lime Stone rock nearby. Once the Vaddi ghats are over you can feel the humidity of the coastal Karnataka (Coast is few hours journey from here). One will have to take a deviation at a place called Mabagi. From here the water fall is around 3kms distance. Though one finds few houses nearby the tentage and food are the items one should pack.

Gokak Falls
This is located at a distance of 6 km from Gokak on the Ghataprabha River in the Belgaum district(65km).After a long winding course, Ghataprabha River takes a leap of 170 ft over the sandstone cliff. The cliff is in a picturesque gorge of the Gokak valley and is in the shape of a horseshoe. Except the width and color of the water, the general characteristics of the fall, height, shape and speed look a lot like Niagara Falls on a smaller scale. The dull roar of the falls can be heard long before it attained. There is a hanging bridge across the river, about 201 meters and its height above the bed rock is measuring about 14 meters. Only 30 people are allowed at a time inside the bridge. There is an old electricity generation station and electricity was generated here for the first time in the country in 1887. One interesting feature of this place is the monuments from the Chalukya era that are found on either bank of the rocky gorge. Another attraction of this place is the very old river-front temple dedicated to Lord Mahalingeshwara, built in the Later Chalukyan style of architecture.Best time to visit Gokak Falls: July to October.

Sootanabbi/Hanuman Gundi Falls
Kudermukh,Karnataka. One of the main attractions close to Kudremukh is Hanuman Gundi waterfalls. The waterfalls, slashing down from a height of more than 100 feet falling onto natural rocks majestically, is an exciting scenery. One can trek for some distance to get into the falls and to have body rejuvenating and refreshing bath. The forest department has constructed some nice and safe steps to get down into the falls for a nominal Rs 30/- per head. A calm and isolated destination, here one can enjoy the beauty of silence and marvel of the waterfalls.

Barkana Falls
It is located near Agumbe in Shimoga district of state of Karnataka.!
The Barkana Falls are among the ten highest waterfalls in India.The Barkana falls are formed by the Sita river. Currently Barkana falls are the prime source of one of the hydro electric projects in Karnataka. It is a wonderful location for sightseeing and enjoying a picnic, but beware of the leeches during the rainy season.

Koosalli Falls
It is located Koosalli Falls- 85 Km from Udupi - Kundapura Taluk Near Shiroor. The fabulous picnic spot, Koosalli waterfalls is located near Koosalli village in Kundapura. A series of six falls, one above the other, in splendid surroundings makes it one of the best waterfalls in the state. The combined height of all six falls is about 380 ft. The foliage around the spot is attractive. Best time to visit: Between December to January . This virgin and unspoiled spot is near Shirooru, which is 76 km from Udupi on NH 17 towards Karwar. Kundapura is about 36 km from Udupi.

Lalguli Falls
It is located about 15 kms north of Yellapur,From Bangalore - 515km.!
The Western Ghats rising to an average of 900m converges into the Nilgiri Hills and offers to Karnataka a plethora of thundering waterfalls plummeting down from great heights.Among the exotic waterfalls is Lalguli Falls in Karnataka located about 15 kms north of Yellapur. On your rendezvous to Karnataka hills you will be appalled at their looming heights, carpeted with dense growth of evergreen forests, rare species of avian and animals and magnificent waterfalls. The Kali River cascades down from a 250 ft. looking absolutely stunning throwing up a spray of misty clouds. The west season to traverse through these picturesque hills and view the magnificent Lalguli Falls in Karnataka is the winter. You should avoid visiting the hills during monsoon as the terrain gets dangerous due to slides and the leeches are found everywhere.

Godachinmalki Falls/Markandeya Falls
It is 16 kilometers away from Gokak and 40 kilometers from Belgaum district.located on the west side of Konnur Road.Karnataka. There are actually two falls formed here. The Markandeya river takes a first fall from a height of about 25 metres and flows into a rocky valley. After a short distance from the rocky valley, it takes the second fall from a height of about 18 metres. Later Markandeya river joins Ghataprabha river near Ghodgeri. Within a 6 km radius there two dams; one built across Ghataprabha river (Hidkal Dam)and another one across Markandeya river. The best time to visit these places is from June to September.

Varapoha Falls
20 km south-west of Belgaum and 18 km west of Khanapur in the Belgaum District (60km).Water Falls Height-266 feet .Jamboti is primarily well-known because the Mandovi River, which is the longest river in Goa, has its origin in the Jamboti hills. As for the surroundings, dense hilltop forests bound the area. A place worth visiting in Jamboti is the Vajrapoha Falls nestled amidst the green canopy of the Western Ghats. Situated in the course of enchanting hills and the Jamboti forests, the Vajrapoha Falls is one of the few less known & most spectacular fall of the Western Ghats, which is still unspoiled and not choked. Following the swift flowing river Mahadayi in deep forests, the River Mahadayi is joined by two other streams Marcidha nala and Pannera nala in creating this magnificent waterfall, which later known by the name "Mandovi" in Goa. The river, cascading down a height of over 150 ft to a gorge below, is a spectacular vision, one not worth missing out on! If you are in luck, you'll spot a pied hornbill or a huli salinga (brother of the venomous tarantula). The fall is a must see destination for any enthusiastic and ardent nature lover!

Keppa Falls / Unchalli Falls / Lushington Falls
Unchalli Falls is near Yana.located 30 kilometres (19 mi) from Sirsi, a town in the Uttara Kannada District.Keppa Falls because of the deafening sound created by the falling water. Since it was discovered by J.D. Lushington in 1845, a district collector of the British Government, it was also known as Lushington Falls. Locals call it Keppa Falls for its deafening effect. Further downstream are the smaller Dadmane falls. Lushington Falls 33 km from Sirsi are the Lushington Falls, where the river Aghanashini thunders down from the height of 116 meters. Trekking 5 km from the Heggarne village along the dense forests can be an exciting experience. The mountain tracks, the steep mountain slopes, deep gorges, chilly breeze and the amazing flora and the rare avian species accompany you until you reach the roaring Unchali Falls plummeting down. For a trip to Unchali Falls in Karnataka book a tour with indianholiday. Log on to indianholiday.com to know more about Unchali Falls in Karnataka.

Kudumari Falls
It is located Koosalli Falls & Kudumari Falls- 85 Km from Udupi - Kundapura Taluk Near Shiroor.Koosalli falls, near Shirooru in Kundapura, is one such fabulous spot. It's located near Koosalli village and hence the name, though the approach route to the falls is not through Koosalli. A series of six falls (three smaller ones) one above the other in a straight line with superb surroundings make it one of the best waterfalls in the region. Even the path that leads to the falls is unique with 90 minutes of walking, jumping across and negotiating boulders of all shapes and sizes upstream. Koosalli Falls & Kudumari Falls in one frame.Apart from those living nearby and the trekkers who go in search of such spots, not many are aware of Koosalli falls. It is situated at such a unique location facing the sea, which makes it probably the only waterfall from where a panoramic view of the Arabian Sea is possible. Shirooru is 76 km from Udupi on NH 17 towards Karwar. Shirooru check-post is another two kms ahead. At the check-post a right diversion for 11 km via Toodalli leads to Kallikone, a locality of two houses. There is KSRTC as well as private bus service up to Toodalli. However, it is advisable to hire an auto from Shirooru check post to Kallikone. From Kallikone a walk of approximately 90 minutes is required to reach the bottom of the sixth waterfall which is about 50 ft tall. Then an ascent of another 35 minutes takes you to the main (first) waterfall. !

Hebbe Falls
It is 10 km away from the famous hill station Kemmangundi.District: Chikmagalur.Bangalore:240 km. Hebbe falls is one of the most picturesque tourist destinations of Chikmagalur district. Hebbe Falls is located about 8 km from the picturesque hill station Kemmangundi, a summer retreat of Krishnaraja Wodeyar IV. Hebbe Falls is surrounded by dense forests and coffee plantations, Hebbe Falls gushes down from a height of 168 meters in two stages to form Dodda Hebbe (Big Falls) and Chikka Hebbe (Small Falls.) Hebbe Falls is a perfect retreat from the busy city life and it is one of the must visit tourist spots in Karnataka. If you are working on your vacation plans this year, you have every reason to keep Karnataka tourism on your agenda. Karnataka has scenic and unspoilt hill stations that are frequented by those seeking the serene. Among these exotic hill stations are the beautiful Waterfalls in Karnataka that cascade down from great heights. Among the many falls Hebbe Falls in Karnataka is one of the spectacular waterfalls of Karnataka.!

Bandaaje Arbi Falls
Bandaje Arbi falls is 25+Kms from Dharmasthala in South Kanara district. Distance from Bangalore : 350+kms.One of the numerous waterfalls of the Western Ghats. This beautiful waterfall is at few kilometers distance from Mundaaje near Dharmasthala in South Kanara. Arbi is a 200+ft waterfall,but the path leads to the top of it. Ballalarayana Durga is visible from the topmost point of the hill about an hour's walk up from arbi. Arbi is waterfall in KannaDa. This waterfall can also be reached by sunkasaale and Ballalarayana Durga. Going by the amount of junk there,it seemed to be a popular spot. Its a pity to see such spots being polluted. More terrifying factor is the ignorance we prevail.!

Mekedatu
Mekedatu is 90km from Bangalore.Bangalore - Kanakapura - Sathanur - Chunchi Falls - Sangama – Mekedatu.Mekedatu is a location along Kaveri in Kanakapura Taluk. Sangama is the place where Arkavati merges with Kaveri. From this point, about 3.5 kilometers downstream, the river Kaveri flows through a deep gorge so narrow that one would think that a goat can leap across it ('Mekedatu' means 'goat's leap' in Kannada). It is not really so narrow and no goat commonly found in that part of India could cross that distance in a single leap. It is about 90 km from Bangalore via Kanakapura. The name comes from an incident which is believed to have been witnessed by herdsmen in that area a long time ago. It is said that a goat being chased by a tiger made a desperate attempt to save its life by leaping from one side of the gorge and managed to cross over the raging river below, whereas the tiger did not attempt to replicate this feat, and abandoned the chase. The point where the goat leapt has widened since then from erosion caused by the river Cauvery.

Shivganga Falls
It is on the river Sonda in Uttara Kannada, Karnataka. This is about 22 km away from the town of Sirsi.The Shivaganga falls is a 74 m high waterfall.Shivaganga is one of the unique waterfalls in the Western Ghats on the border of three taluks Sirsi, Yellapur and Ankola of Uttara Kannada district.The waterfall is located in an area of thick forest.The small Sonda River falls from 74 m high in to a deep valley covered with thick ever green flora and presents a charming view. A temple dedicated to Lord Ganesha, can be seen in the middle of the river.

Waate Halla or Hole falls
It is situated 30 kms from Sirsi town, Western Ghats. From Bangalore 430 kms.Waate Halla or Hole falls is created by the tributary of Aghanashini River. It is situated 30 kms from Sirsi town, Western Ghats. The waterfalls plunges from about 100ft. Waate meaning river side bamboo, which is found here in abundance. Halla meaning pit. Hole meaning pond. This place is close to Unchalli fall, Benne hole falle, Yana.A tributary to the Aghanashini River makes this wonderful falls some 30kilometers away from the Sirsi Town falling from a height of around 100+feet.

Muthyalamadu Falls OR Pearlvalley
It is an hours drive (40 kms) from Bangalore near Anekal. Its in the periphery of Banneraghatta National Park.The Muthyalamaduvu Falls or the Pearl Valley Falls is a gushing stream cascading down from a height of 92 m. The drops of water strewn across the rock surface on impact lend the appearance of scattered pearls. Hence the name. The fall, its sereneambience and the lush green valley is a huge draw for visitors. Muthyalamaduvu is a multi stage waterfall. The water gurgling through the rocks soothes the body and the soul. A Nilgiri plantation close to the top of the waterfall is a perfect place to while away hot afternoons on a sunny day. Base of the waterfall has enough shade with a small pond where you can test you swimming skills. The valley also has good nunber of birds and flowers. Overlooking these falls is a small shrine dedicated to Shiva, adding a religious touch to the place.

Balmuri Falls
It is located 3 kms off the Mysore to the KRS (Krishna Raja Sagara) main road.
The place where the Balmuri and Edmuri waterfalls are located is surrounded by lush greenery and is a hot spot among the locals as well. A visit to this place is calming and relaxing. Balmuri and Edmuri waterfalls is a hot-spot for students and nature lovers and weekend getaway hunters from Mysore and Bangalore. Balmuri falls is the famous of the two and many Indian movies have used this location to shoot song and dance sequences. Technically, Balmuri and Edmuri waterfalls are not actually waterfalls. It is mostly flowing water of the Kaveri. At a particular spot in the Balmuri, there is step of about 6 feet from which creates the effect of a mini-waterfall. The intensity of visitors is not great during the dry season (March to August) and it is relatively safe to enjoy playing in the water here.

Edmuri Falls
It is located 3 kms off the Mysore to the KRS (Krishna Raja Sagara) main road. Edmuri falls is about 500 feet east of Balmuri falls and is a good spot to swim and play some games in the water. There is an ancient Ganesh temple close by that you can visit. You will have to be cautious as there are jagged stones in the water and at some places, the water deepens suddenly. You can also visit Srirangapatna which is about 20 minutes from here.

Alekhan Falls
Alekan or alekhan falls is on the way to Kottigehara from Charmadi Ghat. Its just next to the road before 4kms from Kottigehara.This water fall is just next to a small bus stop by name 'alekhan horatti'. Since being both very easily accessible and immensly beautiful it attracts people. Other places are Bale Kallu Gudda.

How to reach there A state transport or private bus/jeep from charmadi (18kms) will take you to this place after a winding scenic journey of charmadi ghats. Its 4kms away from kottigehara.

Chelvara Falls
Chelvara Falls is near Cheyyandane which is around 16 kms from Virajpet.Coorg.
This majestic stream falls is much admired and is visited by most of tourists visiting this part of coorg.Chelavara Falls is also called as ?Embepare? by the locals meaning ?Tortoise Rock?. The water fall is really a wonder full view as the water gushes from the top amidst the green coffee plantation. The best part of visiting Chelavara falls is that 'Chomakund' a renowned hill is just 2 kms away from here. Chomakund is an awesome place surrounding with lush green shrubs and trees and is almost covered in fog most of the time. One can also get a glance of the Arabian Sea from here. What else do you need
Some of the famous Beaches of Karnataka are :
Karnataka on India's West Coast may not be well known as a beach destination, but it does have some beautiful beaches. The Beaches of Karnataka capture a place in the list of popular beaches in India. Karnataka's beach destinations include Karwar, Mangalore, Ullal and Suratkal.

Visit the beautiful Beaches of Karnataka. Walk on pristine white sands, enjoy the undisturbed solitude at Karnataka Beaches and feel at peace on your beach holiday in India
Karwar Beach
Karwar has all the makings of a perfect holiday, gentle waves, palm-laced beaches, silver sand, and calm, peaceful alleys. This beach site makes a good starting point for the voyage of discovering the thrills the sea, sand and sun.
This place lies 60 kilometres to the south of Karwar. The coastal town has an ancient temple with an Atmalinga. This place is renowned for Sanskrit schools and learning. Nearby are the fabulous Om Beach and the Kutle Beach.Nearest Railway Station : - Gokarna Road.
St Mary's Island Beach
St Mary's Island Beach is situated at around 58 km north of Mangalore and it is famous for its unique formation of basalt rocks that are split into vertical hexagonal blocks and have crystallized into columns. The group of islands can be visited with the help of a ferry from the major fishing harbor, Malpe. The island was named by Vasco da Gama, the Portuguese explorer who reached the island during 1498 before reaching the Calicut. Vasco da Gama named onw of the island as El Padron de Santa Maria and the northernmost island is located at around a square a mile in area, it is only around 250 yards in width. The island is one of the shadiest islands of the group because of more coconut grove which gives true South Sea color. Different from other beaches, St Mary's Island's rocky terrain does not promote strolling or swimming and the tourists can only look around and get amazed because of the expansive rock formations surrounding around the beach. St Mary's Island Beach is located 6 km from the Udupi town. The best time to reach the place is from December to March. The nearest rail head is Udupi railway station.
Malpe Beach
Malpe beach is a popular picnic spot of Karnataka due to the pristine beauty and peaceful surrounding of its virgin beach. Just a boat ride away, the St Mary's Island is another delightful holiday destination from Malpe Beach.
Maravanthe Beach
Marwanthe is a unique seaside town of Karnataka, where the West Coast Highway cruises along with the Arabian Sea on one side, and the river Sauparnika rushes against a verdant mountainous backdrop on the other. It has beautiful beach nearby, which makes quite a promising site for water sports and holidaying.
Bhatkal Beach
Bhatkal Beach is a picturesque place 16-km from Bhatkal. Bounded by the shimmering sea and rolling hills, this place is a favourite tourist spot and known for the gorgeous temple perched on a hillock by the shore.
read more about Bhatkal Beach
Murudeshwar Beach
The place is believed to have been sanctified by a piece of the Pranalinga of Mahabaleshwara thrown by Ravana and has some beautiful carvings and statues. Bounded by the shimmering sea and rolling hills, the place is a favourite picnic spot.
Some of the famous Bird sanctuaries of Karnataka are:-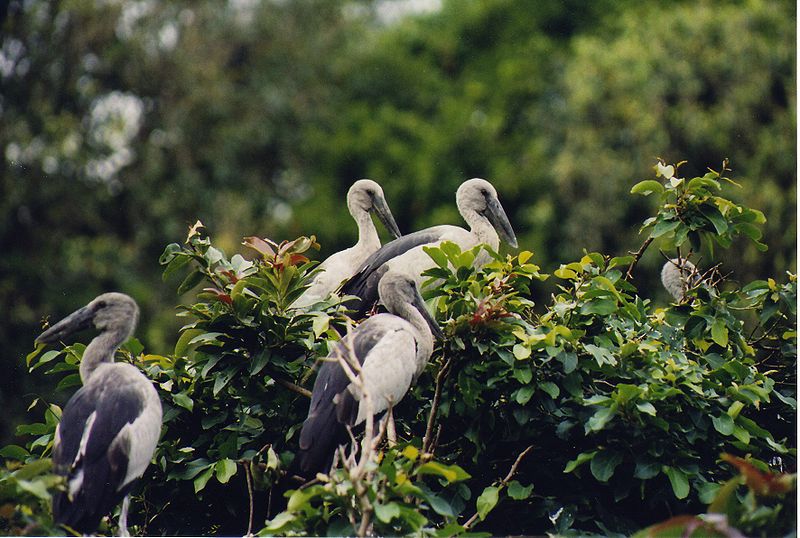 Bird Sanctuaries in Karnataka Situated in the Southern part of India, Karnataka is a state steeped in history and culture. Karnataka boasts of a rich biodiversity of flora and fauna with a forest area of 38,720 square kilometers. Karnataka's wild life consists of animals, plants and birds. Including the many national parks and sanctuaries this state takes special pride in the bird sanctuaries scattered all over the state. Karnataka is ranked the fourth most popular tourist destination in India; it offers numerous spots of interests for tourists from within the country and abroad. Nature lovers would love to visit Karnataka for its scenic hill ranges and unexplored forests.
For a bird lover Karnataka would prove to be just heavenly, for here one is surrounded by birds of various colours, shapes and sizes in the many bird sanctuaries in the state. Since Karnataka is a well loved migratory destination for birds one would find here an assortment of migratory birds along with common Indian birds. Anybody with a special interest in birds might always head to this beautiful state for a delightful break.
Attiveri Bird Sanctuary: This is located in Uttara Kannada district and is spread over 2.23 km². White ibis, little cormorant, pied kingfisher, common grey hornbill are some of the bird species found here
Gudavi Bird Sanctuary: This is located in Shimoga district and is spread over 0.73 km². The tree species that dominate this sanctuary are Vitex leucoxylon and Phyllanthus polyphyllus. 191 species of birds are recorded here including white ibis, pheasant-tailed jacana, purplr moorhen and little grebe.
Ranganathittu Bird Sanctuary: This is located in Mysore district and is spread over 0.67 km². Among the tree species found here, is the unique Iphigenia mysorensis. Other tree species include Derris indica and Barringtonia racemosa. This sanctuary is a haven for birds like cormorants, darter, white ibis, great stone plover, cliff swallow, spoonbills, lesser whistling teal and kingfishers.
Mandagadde Bird Sanctuary: This is located in Shimoga district and is based on a small island on the Tunga river. It is mainly visited by migratory birds like Median Egret (Egretta intermedia), the Little Cormonant (Phalacrocoorax niger), and the Darter or Snake Bird (Aninga nufa).
Kaggaladu Heronry: This is located in Tumkur district and is one of the largest painted storks sanctuary in South India. Some of the birds that nest here are painted storks, grey herons, pelicans, black stilts and ducks.
Kokkare Bellur Pelicanry: This is located in the town of Kokkare Bellur in Mandya district and is a haven for avian species like Grey or Spot-billed Pelican (Pelecanus philippensis) and Painted Stork (Mycteria leucocephala). In fact the word Kokkare means stork in the Kannada language. Apart from pelicans and storks, 141 species of birds have been sighted here.
Bankapura Peacock Sanctuary: This is loacted in Haveri district and spread over an area of 139.10 acres. This sanctuary was created mainly for the conservation of peacocks.
Magadi Bird Sanctuary
This is a sanctuary which was created at The Magadi tank, located in Magadi village of Shirhatti Taluk, Gadag District. It is the temporary home to the Bar-headed Goose which migrates here. It is also one of the biodiversity hotspots in Karnataka.
Other than the birds mentioned some other birds found in Karnataka are the Great Hornbill, the Ceylon Frogmouth, the Malabar Pied Hornbill, Herons, Kites, Ducks, Falcons, Eagles, Partridges, Quails, Sandpipers, Lapwings, Doves, Pigeons, Cuckoos, Parakeets, Nightjars, Owls, Kingfishers, Swifts, Munias and Bee-eaters. The forests of Karnataka are not just a source of mere attraction but most importantly they provide a protected home for hundreds of birds in different seasons
Some of the famous Historical Monuments of Karnataka Are:
Maharaja's Palace Mysore
The monuments of Karnataka offer plenty to tourists and aficionados of history. They take you to the glory and grandeur of a bygone era. Now major tourist attractions, these monuments in Karnataka were built to serve specific purposes. If the forts were bulwarks against marauding enemies, the palaces were symbols of the opulence of royal families.
The Karnataka monuments have spawned tourism industries in their respective locations. People come from distant places to marvel at their architecture and to delve into the legacies of ancient kingdoms. If a tour to Karnataka is on the cards, don't miss the monuments of Karnataka. They will make you come here again and again.
Mysore Palace
Mysore Palace is one of the most splendid and largest palace of its kind in India. Its serves as one of the major heritage and cultural monument for Karnataka. The beautiful Mysore Palace was built in 1897 and was designed for the Maharaja of Mysore by a British architect. The palace is well known for its extravagant decorations inside. The Palaces is one of the major hallmark of Mysore city and is fully illuminated on Sunday nights and on Dussehra festivals.This beautiful palace is designed in the Indo-Saracenic style and is surrounded by twelve temples. The Palace was rebuilt in 1912 as the old wooden palace had been destroyed by fire in the year 1897.Beautiful pictures of the Dassera processions are painted on the walls of the palace. It is painted in such a manner that from any angle you can see the procession coming towards you.The Palace is also rich in its souvenirs, paintings, jewellery, royal costumes and other items, which were possessed by the Wodeyar Rajas. The Palace has been converted into a museum reflecting the rich and colorful history of the erstwhile princely state of Mysore
Gol Gumbaz : Gol Gumbaz is the tomb of Mohammed Adil Shah and was constructed during (1627 -56) by the seventh ruler of Adilshahi dynasty. Gol Gumbaz is one of the major and most astounding monuments in Karnataka. This magnificient monument is situated in Bijapur in Karnataka. The dome of Gol Gumbaz is unsupported by pillars and is second in size only to St.Peter's Basilica in Rome. The dome is internally supported by eight intersecting arches created by two rotated squares. The major peculiarity of the dome is that it carries the faintest whisper around the dome and returns it to the listener nine times. The tomb has a floor area of 1700sq.m, a height of 51m, diameter of 37m and walls which are 3m in thickness. The tombs of the Sultan, his two wives, his mistress Ramba, his daughter and grandson are under the dome.
Belgaum Fort: The Belgaum Fort is located in Belgaum, which is one of the most important places in the state of Karnataka. The majestic Belgaum fort is one of the oldest monuments in Karnataka and was built in the 13th century by Jai Raya. The fort is built of stone and of mud and is well known for its religious diversity, where mosques and temples exist together. The Belgaum fort has two mosques. The most important of them is the Safa Masjid, which serves the entire city of Belgaum. The fort also features two shrines at the entrance way. The fort is also well known for the Nagari and Persian inscriptions found all around the fort. The type of architecture found around the fort is mainly of Indo-Saracenic and Deccan.Mahatma Gandhi was imprisioned in the Belgaum Fort during the British rule in India.
Aihole
Cradle Of Indian Architecture Located 43 Kms from Kudala Sangama, Aihole was the ancient capital of Chalukyas. Famous as the cradle of "Indian Architecture", Aihole has over a hundred temples scattered around the village.
There are about 125 temples divided into 22 groups scattered all over the villages and nearby fields. Most of these temples were built between the 6th & 8th centuries and some even earlier.
Badami
The capital of the Early Chalukyas, Badami is picturesquely situated at the mouth of a ravine between two rocky hills, Badami is famous for its cave temples - all hewn out of sand stone on the precipice of a hill.
The largest and most ornamental is the third cave temple dedicated to Vishnu. Overlooking the cave temples is a reservoir dotted with temples dedicated to Vishnu and Shiva.
Belur
Southern Banaras Belur, the temple town is located 34 kms from Hassan. Famous for its exquisite temple, Belur is known as the Dakshina Varanasi or Southern Banaras.

The serenity of Belur is attributed to the celebrated Chennakesava Temple built by the Hoysala King Vishnuvardhana in 1117 A.D to commemorate his conversion from Jainism to Vaishnavism.

The main structure of the temple, which is star-shaped, is a homogenous architectural unit on a raised platform. Inside, even in the darkness, you can see the hand-lathe turned shining pillars, each unique in its own splendour.
Bijapur
The ancient town of Bijapur, dotted with mosques, mausoleums, palaces and fortifications, was the capital of the Adil Shahi Dynasty. Once the capital of the Adil Shahis, it was a city that "exceeded anything of its kind in Europe".

Even today, it retains its dignity and royal grandeur. Still strongly Muslim in character, Bijapur has many places of historical, cultural and architectural interest. Even though many of the structures were damaged by Aurangazeb, Bijapur remains a must-see town.
Halebid
Located 17 kms from Belur, Halebid was known as Dwara Samudra, the wealthy capital of the Hoysalas. The great city of Dwarasamudra flourished as a Capital of the Hoysala Empire during the 12th & 13th centuries.

During the reign of Veeraballala II, the grandson of Vishnuvardhana, it reached the greatness of its zenith. Veeraballala II extended his empire from sea to sea between the Cauvery & Krishna rivers. Halebid has several strikingly beautiful Hoysala temples and Jain shrines.
Hampi
Hampi, the land of surprises was founded in the middle of 14th Century by two local princes, Hakka & Bukka. The Vijayanagar Empire came to be celebrated for its might and wealth and as a show piece of imperial magnificence.

Vijayanagara is such that the pupil of the eye has never seen a place like it... " So eulogized Abdul Razaq, a Muslim envoy who visited Hampi.
Pattadakal
Situated on the left bank of the Malaprabha River, Pattadakkal is a World Heritage Centre. The town has 10 major temples representing early Chalukyan architecture.

This place reached its pinnacle of glory under the Chalukyas from the seventh to the ninth centuries functioning as a royal commemorative site. The biggest temple here, dedicated to Virupaksha, has a massive gateway and several inscriptions.
Shravana Belgola
The Most Revered Jain Pilgrimage Wedged between two stark rocky hills, the legendary pilgrim centre of Shravan Belagola and shrine of the Jains since early times is 150 km from Bangalore, 52 km from Hassan and 80 km from Mysore. Shravanbelagola is one of the oldest and most important Jain pilgrim centres in India.
Sriranga Patnam
The name translates to "the city of Sri-Ranga" the main deity of this tempe town. This town is an island in the river Kavery and was the old capital o the ruler Tippu Sultan - nicknamed the Tiger of Mysore. At the heart of this twn is the temple dedicated to Sri Ranga, whom Tippu used to worship (though h was a muslim by faith). The granite statue in reclining posture is both long a is part of three such unique temples. The other two similar stutues can beseen in Tiruvananthapuram (capital of Kerala State) and Srirangam (Tamil Nadu).The town is full of forts, palaces and ruins, standing testimony to the fiercewarrior that Tippu Sultan was, as the King of Mysore in the 18th century. Two lines of fortification, separated by water between them and also beingan island in the river Kavery, made his capital an extremely tough target for-the British to fight with.
Best Time to Visit Karnataka
The Best time for Karnataka travel is from October to March, covering the post-monsoon and winter seasons, as the climate is generally pleasant over the entire State. The brief winter period does not result in harsh cold weather making it the ideal time to visit Karnataka.

On the other hand if you are planning to catch a glimpse of the exotic flora and fauna of Karnataka wildlife sanctuaries, schedule your trip during the monsoon season from May to September.

How to Reach in Karnataka
By Air:
Regular flights are available from the Bangalore International Airport. They connect the state with major cities of India such as Delhi, Mumbai, Chennai, Trivandrum, Kolkata and Ahmedabad.
Bu Rail:
The railway station at Bangalore connects with all the main cities of India.
By Road:
Several state and national highways connect the state with rest of India.
Tags:Tourist Attractions in Karnataka, Tourist Attractions Karnataka, Karnataka Tourist Attractions, Tourist Attractions in Karnataka South India, Tourism in Karnataka, Hill stations in Karnataka, Trekking Spots in Karnataka, Wildlife in Karnataka, Amusement Parks in Karnataka, Waterfalls in Karnataka, Karnataka Travel, Karnataka Travel Guide, Tourist Destinations in Karnataka, Beaches In Karnataka, Tourism in Karnataka, Karnataka Tourism, Tours to Karnataka, Tourist Places in Karnataka